As if his career needed any further validation, former Black & Gold striker -- and the club's first-ever player acquired -- Brian McBride has received U.S. Soccer's highest honor. On Saturday evening in San Francisco, McBride was inducted into the National Soccer Hall of Fame with United States Women's National Team legend Kristine Lilly and former USMNT Head Coach Bob Bradley.
"This is difficult for me in the sense that I don't like talking about myself, and yet I'm very honored to be up here and to be a part of this, and to have this not-so-attractive-but-very-meaningful jacket," the humble McBride joked during his acceptance speech.
"There's always going to be something you want to achieve," he continued later in his speech. "Make sure you don't come up short because you didn't put in the effort to reach that achievement. We can always improve, and we can always learn."
A veteran of three FIFA World Cups with the United States, McBride retired second all-time in Columbus history with 62 goals scored and helped the Black & Gold to their first silverware ever in franchise history: the 2002 Lamar Hunt U.S. Open Cup.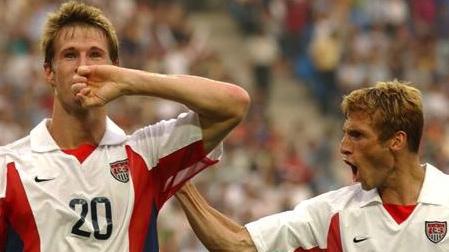 McBride's former USMNT teammates and current members of the Crew SC organization Gregg Berhalter, Frankie Hejduk and Josh Wolff took the time to reflect on the club's inaugural Circle of Honor inductee's storied career.
"I think the first thing that comes to mind when I think of Brian is the ultimate team player," Berhalter said of McBride. "He's a guy who would sacrifice everything for team success. My memory of playing with him and being around him is someone who really gave everything for the team."
Echoed Wolff: "When I think of Brian McBride, I think of one of the ultimate team players. He embraced being a leader; he embraced being an experienced player. For me, he was someone that was encouraging and certainly helped coach players on the field, and helped you feel comfortable. He was easy to play with, easy to understand, and when he played in games he was a ruthless finisher.
"He brought a lot of great qualities to the games, but most of all he was a team player who embraced that role in every aspect. He was a leader."
A teammate of McBride's at the 1998 and 2002 FIFA World Cups, and in Columbus during the 2003 MLS season, Hejduk lauded the legendary striker as both a player and a person.
"As a player, he just earned respect from all of the guys and he led by example, and that example was training very hard and bringing that into the game," Hejduk explained. "How many games did you see the guy with blood on his head but taping it up, and didn't care and was back out there? He was definitely my type of player.
"He's just a good, good dude, a solid man, and I'm happy to not only have been able to play with him but know him as a person and consider him a great friend to this day both on and off the field."